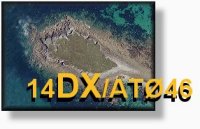 Welcome to the information page of 14DX/AT046.


This page is mainly made to offer log-search, and
general information.


Guy 14DX029 and Merry 14DX079 will activate this island under the banner of the DXRC Islands Weekend and WWRO Island Festival.

Weather permitting, there is a chance they will activate another island nearby, if possible this second Island will be active on the Sunday ( 6th June ).



Find Segal Island on Islands Base Online.




Team


14DX029 Mr. Guy
14DX079 Mr. Merry


QSL-Manager


DXRC Bureau

E-mail to manager: Click .





Activity schedule:


05/06/2010 & 06/06/2010: Segal island.




Equipment used:


- antenna: Skypper, Bamby & Imax vertical
- radio: Icom IC725, Yaesu FT857D
- microphone: original
- power: 100 Watt
- logsystem: "exchange radio & Signal reports"




Log:


Click here to make logsearch.
296 stations, from 23 DXCC's in log.




Pictures (also proof):


Click here to see pics from the activity.




QSL design:


Click here to See the 14DX/AT046 QSL design.



Back to DXRC Islands Weekend Page.

Back to activations page.