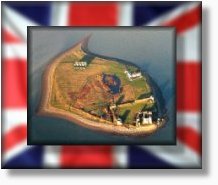 Welcome to the information page of 26DX/CU005.


After a lot of negotiations with the landlords of Piel Island, Trevor and team have been given permission to land on and activate this tiny island. Transport has already been arranged.

Piel Island is the "Jewel in the Crown" of the Islands of Furness with history going back to the 11th Century.

If all goes will, there is a good chance the team will be on air late on the Friday the 14th, with 24 hr operation on the Saturday. Due to tidal times, unfortunately departure from the island on Sunday is looking like it will be early morning, but one thing is guaranteed, the team will be on air for as long as possible to insure maximum stations have a chance to work this rare island.


---
Update - 14/08/2009 at 20:45z.
Trevor is on Piel island, at moment there's 50+ mph winds, so its not possible to erect the antenna at the moment, the generator got wet with sea water on the rough crossing to the island and will not start.

To make matters worse, Trevors friend and fellow CU-005 team member Steve 26AT015 didn't make it there in time, so missed the sea tide and opportunity to get on the island, so Steve will try to join Trevor tomorrow.


---

Find Piel Island on Islands Base Online.




Team


26DX015 Mr. Trevor
26AT015 Mr. Steve


QSL-Manager


DXRC Bureau

E-mail to manager: Click .






Activity schedule:


14/08/2009 to 16/08/2009: Piel island.




Equipment used:


- antenna: A99 vert
- radio: TS-570DG
- microphone: original
- power: 100 Watt
- PA: KM RL-500
- Power source: Generator & 12v Battery
- logsystem: "in the log"




Log:


Click here to make logsearch.
145 stations, from 21 DXCC's in log.




Pictures (also proof):


Click here to see pics from the activity.




Video clip (also proof):


Click on the thumbnail below to watch the Video.







QSL design:


Click here to See the 26DX/CU005 QSL design.




Story:


Click here to read all about the activity.




Audio recordings:


Click here to hear 26DX/CU005 audio. (Notice: mp3 format).



Back to Activations Page.