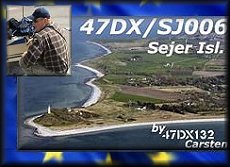 Welcome to the information page of 47DX/SJ006.



This page is mainly made to offer log-search, and
general information.



After last years stormy experience on Neksel Island SJ007, this year Sejer Island SJ006 were picked as
next target, hoping weather and propagations will be a bit more co-operative.
Carsten travels there by ferry, and plans to setup the station on Sejer Island most southern coast line tip.
This should provide an excellent take off in almost all directions.


Sejer Island is amongst the 50+ islands which will be on air in the
DXRC Islands Weekend & WWRO Island Festival.


Find Sejer Island on Islands Base Online.



Team


47DX132 Mr. Carsten
47DX132 XYL Mrs. Sus


QSL-Manager


DXRC Bureau

E-mail to manager: Click .






Activity schedule:


06/06/2009 to 06/06/2009: 47DX/SJ006 - Sejer island - IOTA EU029.




Equipment used:


- antenna: Bamby quad 1 element on 10mt telescopic alu. mast
- radio: Yaesu FT-857D
- microphone: Heil Headset
- power: 100 Watt
- logsystem: "in the log"




Log:


Click here to make logsearch.
67 stations, from 14 DXCC's in log.




Pictures (also proof):


Click here to see pics from the activity.




Video clip (also proof):


Click on the thumbnail below to watch it.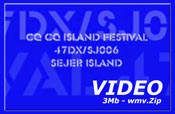 QSL design:


Click here to See the 47DX/SJ006 QSL design.




Audio recordings:


Click here to hear 47DX/SJ006 audio. (Notice: mp3 format - 7 Kbyte).
Click here to hear 47DX/SJ006 audio. (Notice: mp3 format - 17 Kbyte).



Back to DXRC Islands Weekend Page.
Back to Activations Page.